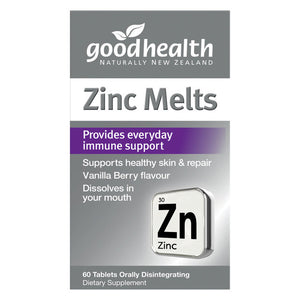 Highlights
Provides everyday immune support
Supports healthy skin & repair
Vanilla Berry flavour
Dissolves in your mouth
Good Health Zinc Melts
 are delicious vanilla berry flavoured tablets that dissolve in your mouth using advanced sub-lingual technology.
Zinc is an essential mineral used throughout the body for many functions including the maintenance and upkeep of a healthy immune system. It also supports hormonal health and skin repair.  
The addition of Vitamin A further supports zinc absorption in the body.
Zinc (from Zinc Citrate) 7.5mg
Vitamin A (Retinyl Palmitate 600IU)
No added:
 gluten, dairy, egg, yeast, wheat or soy
Directions
Adults from 16 years:
 Take 1-2 tablets daily after food or as professionally advised.
Children 9-15 years:
 Take 1 tablet daily after food or as professionally advised.
Precautions
Daily dose reflects safe tolerable upper level per age group or the maximum permissable over-the-counter dose in New Zealand (15mg).
Vitamins and minerals are supplementary to and not a replacement for a balanced diet.
If symptoms persist consult your healthcare professional.
Suitable for vegetarians.
Keep out of reach of children.
Do not use if cap seal is broken.