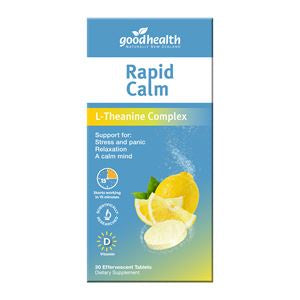 Good Health Rapid Calm is a unique stress complex with scientifically researched L-Theanine. This amino acid crosses the blood brain barrier to support a calm, relaxed mood. Rapid Calm helps during times of heightened stress, showing noticeable results in 15 minutes.
This stress complex also contains Vitamin D for year round mood support and magnesium for nervous tension.
Good Health Rapid Calm dissolves easily in water for a delicious tasting, natural lemon flavoured drink.
Recommended for:
Heightened state of stress or panic

Ongoing stress and worry

Mood health support
Pack Size
30 Effervescent Tablets
Always read the label and use as directed. If symptoms persist see your healthcare professional. Vitamin supplements should not replace a balanced diet. Good Health, Auckland. TAPS PP6572