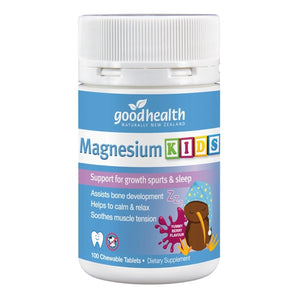 Highlights
Sleep support
Soothe muscle tension
Helps to calm and relax
Good Health Magnesium KidsKids is vital for every cell in active, growing children, to support; growth spurts, soothe muscle tension and support total well-being. Supports kids get a better night's sleep by having a calming and relaxing effect on busy minds and bodies. Contains vitamins C, D and Zinc to help support magnesium absorption, in a delicious berry flavoured chewable tablet.
Key Features:
Complex formula of the essential minerals magnesium
Bed time sleep support
Helps to encourage healthy bones
Natural berry flavour
Cute kiwi imprint on chewable tablet
With Vitamin C, D & Zinc for better absorption
Tooth friendly
Key Benefits:
Eases growth spurts and soothes muscle tension
Supports relaxation and overall general well being
Calms restlessness and supports a good night's sleep 
Yummy taste which makes it enjoyable to take
Provides building blocks for healthy skeletal growth
Helps to aid the absorption of magnesium
A beneficial product for dairy intolerance
Each chewable tablet contains:
Magnesium citrate 20mg 
Magnesium phosphate 35mg 
Total elemental Magnesium 55mg
Vitamin D3 (
Colecalciferol
) 100IU
Vitamin C 
(Sodium ascorbate) 
50mg
Excipients: 
Tableting aids, xylitol 
(0.27gm)
 and sorbitol 
(0.2gms)
 as tooth friendly sweeteners 
Natural colour – beet red. Contains a natural flavour blend.
No added: Sugar, Gluten, egg, Crustacea, fish, dairy, yeast, wheat and soy.
No artificial colours, flavours, sweeteners or preservatives
No added dairy
Suitable for vegetarians/vegans
Directions
Children 4-8 years: Chew 1-2 tablets daily or as professionally advised.
Children 9 years +: Chew 2-6 tablets daily or as professionally advised.
Precautions
if symptoms persist consult a healthcare professional
Vitamin supplements should not replace a balanced diet