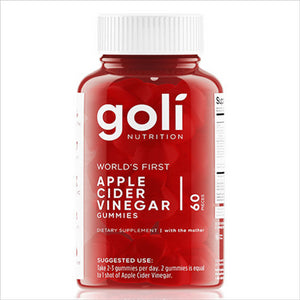 Goli Apple Cider Vinegar Gummies use only high quality apple cider vinegar with the mother. The Goli Gummy is made in a state-of-the-art facility in California that is certified organic, allergen free and kosher.  All gummies are made with the best natural ingredients and are organic, gluten-free, unfiltered, kosher, and vegan. Unlike most gummies who use gelatin, an animal based product, Goli uses pectin, a fiber found in orange peels, to ensure that the Goli gummy is vegan.
 
With two Goli gummies equaling one shot of apple cider vinegar, Goli is proud to say it's created an alternative way to enjoy apple cider vinegar.  Taste the apple. Not the vinegar.
Goli Apple Cider Vinegar Gummies features:
Age old ACV health benefits

Infused with superfoods, pomegranate & beetroot

Enriched with vitamins B9 & B12

Safe for tooth enamel

Great taste

Can improve digestion

Improves insulin sensitivity

Increase satiety and helps people lose weight

Lowers cholesterol

Lowers blood sugar levels
Apple cider vinegar is a vinegar made from fermented apple juice and has been used in cooking products and natural medicines for thousands of years. It has long been a staple in kitchens for its distinct taste, being added to sauces, marinades and salad dressings. Because of its health benefits, it has been used historically to remedy infections, open wounds and a variety of illnesses. In stores and supermarkets, it is often seen labelled as 'filtered' (a clear liquid), or 'un-filtered - the latter containing something known as the 'mother', which means there are protein, friendly bacteria and enzymes present, and gives this type of vinegar a cloudy appearance.
It is made by crushing apples, then squeezing out the juice. Bacteria and yeast are then added to the liquid to start the alcoholic fermentation process, which converts the sugars to alcohol. In the second fermentation step, the alcohol is converted into vinegar by acetic acid, which with malic acid, combine to give it its sour taste.
Goli has taken all the benefits of apple cider vinegar and made them more easily accessible and tasty to ingest with one simple gummy. Apple cider vinegar improves insulin sensitivity, by helping your body move more glucose out of your bloodstream and into your cells, therefore lowering blood sugar levels. Apple cider vinegar can help improve digestion by increasing the acidity in your stomach, which helps your body create pepsin, which is what breaks down protein, many people take apple cider vinegar before eating protein-heavy meals because of this.
Goli offers the same benefits as traditional apple vinegar. This includes helping to curb appetite, and helping to manage weight, as vinegar can help increase feelings of fullness, resulting in less food eaten throughout the day. Scientific studies have found that people who consumed apple cider vinegar experienced greater loss of weight than those who did not. It is also known to be a great detoxifying agent. Reducing or eliminating sugar and processed foods from your diet can be hard, and replacing them with fresh fruits and vegetables is not always as easy as it looks. The ingredients in a gummy from Goli works in the body to help combat the toxins you eat by increasing the good bacteria in your gut.
Container Size: 60 Gummies
Serving Size: 1 Gummy
Servings Per Container: 60