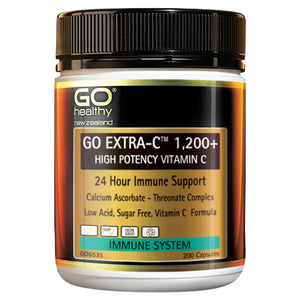 Go Healthy Go Extra-C 1200+ High Potency Vitamin C is a high potency, superior Vitamin C formula which provides 24 Hour immune support. Calcium Ascorbate -Threonate Complex is a low acid form of Vitamin C with high bioavailability.
Vitamin C is essential for boosting the health of the immune system and reducing the severity and duration of winter ills and chills. In addition Vitamin C is a powerful antioxidant, and is considered an essentially daily requirement for good health.
Each capsule contains:
Calcium Ascorbate Threonate Complex (Vitamin C) 1255mg, providing 1000mg of ascorbic acid
Citrus Bioflavonoids  110mg
May contain encapsulating aids.
Contains no added: Wheat, gluten, corn, yeast, milk, artificial flavours, sweeteners or preservatives
Directions
Adults: Take 1 Capsule daily (maintenance).
Adults: Can be increased to 1 Capsule 3 x daily (acute).
Can be taken anytime, with food or on an empty stomach, or as directed by your healthcare professional. 
Precautions
If symptoms persist consult your Healthcare Professional.
Not to be taken during pregnancy or lactation.
Always read the label. Take only as directed.
Those with kidney failure or a history of kidney stones should take Vitamin C only under medical supervision.
If taking prescription medication or if in doubt, consult your Healthcare Professional.