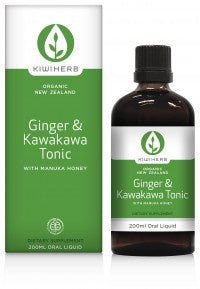 Ginger and  Kawakawa Tonic supports digestion and circulation, and is ideal to rapidly target bloating and digestive upsets. A unique combination of Ginger, New Zealand native Kawakawa and Peppermint in a base of Manuka Honey, this formula provides a broad range of health benefits.
Kawakawa (also known as the New Zealand Pepper Tree) has been used traditionally to offset the discomfort of overeating and nausea, and as a general invigorating health tonic. Ginger is a key herb for nausea and bloating, as well as having warming properties to enhance circulation and ease joint ailments. Peppermint also aids digestive function and eases nausea.
Use for:
Bloating
Digestive discomfort
Poor circulation
Warming Winter Tonic
Ginger & Kawakawa Tonic is ideal to take as needed during times of digestive discomfort, or as a pleasant tasting daily health tonic.
Certified organic
Pleasant tasting hot or cold drink
 No artificial flavours, sweeteners, preservatives or colours are used in this product.