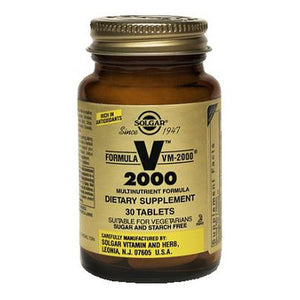 Solgar Formula VM-2000 Multinutrient is a high potency multivitamin and mineral formula providing broad spectrum nutritional support to help those with busy lives, needing to maintain daily vitality. 
VM-2000 is a well absorbed formula containing high dose B vitamins to aid energy, stress resistance and mental function, along with vital nutrients for immune health and liver function and plant enzymes to aid tablet digestion. It contains a range of phytonutrients from a herb and vegetable base, as well as bioflavonoids and carotenoids to support overall well-being.
VM-2000 is ideal for anyone under stress, feeling run down or lacking in energy.
Serving size: 1 Tablet
Amount per serving
Vitamin A (as 100% natural beta-carotene) 10,000IU
Vitamin C (as calcium ascorbate) 150mg
Vitamin D (as ergocalciferol) 200IU
Vitamin E (as d-alpha-tocopheryl succinate) 100IU
Thiamin (as thiamin mononitrate) 50mg
Riboflavin 50mg
Niacin (as niacinamide, niacin) 50mg
Vitamin B6 (as pyridoxine HCl) 45mg
Folic Acid 200mcg
Vitamin B12 (as cobalamin) 50mcg
Biotin 50mcg
Pantothenic Acid (as d-calcium pantothenate) 50mg
Calcium (as calcium ascorbate, glycinate amino acid chelate , d-calcium pantothenate, dicalcium phosphate, carbonate) 32.5mg
Iron (as ferrous sulfate, bisglycinate ) 5mg
Iodine (as potassium iodide) 75mcg
Magnesium (as magnesium oxide, glycinate amino acid chelate ) 15mg
Zinc (as zinc oxide, glycinate amino acid chelate ) 7.5mg
Selenium (as L-selenomethionine)12.5mcg
Copper (as copper gluconate, glycinate amino acid chelate ) 0.75mg
Manganese (as manganese gluconate, glycinate amino acid chelate ) 1mg
Chromium (as chromium picolinate, nicotinate glycinate chelate ) 12.5mcg
Molybdenum (as molybdenum glycinate amino acid chelate ) 25mcg
Potassium (as potassium chloride, amino acid chelate ) 5mg
Inositol 50mg
Choline (as choline bitartrate) 20.5mg
Citrus Bioflavonoid Complex 12.5mg
Betaine HCI 12.5mg
Pyridoxal-5'-Phosphate 10mg
Soy Lecithin 10mg
L-Glutathione 2.5mg
Boron (as boron amino acid complex) 1mg
Carotenoid Mix (alpha and beta-carotene, lutein, zeaxanthin, cryptoxanthin) 114.5mcg
Whole Food/Herbal Blend Complex 130mg
(Alfalfa [leaf and stem], Rose Hips (fruit), Citrus Bioflavonoid Complex, Rutin, Dong Quai [root], Eleuthero [root], Oat Fiber, Suma [root], Watercress [leaf], Echinacea Purpurea [root], Parsley [leaf and stem], Spirulina, Hesperidin Complex)
Soy Protein Isolate100mg
Providing: L-Glutamic Acid, L-Aspartic Acid, L-Leucine, L-Arginine, L-Lysine, L-Phenylalanine, L-Serine, L-Proline, L-Valine, L-Isoleucine, L-Alanine, Glycine, L-Threonine, L-Tyrosine, L-Histidine, L-Tryptophan, L-Cysteine, L-Methionine
Also contains: Microcrystalline cellulose, vegetable cellulose, vegetable stearic acid, vegetable magnesium stearate, vegetable glycerin, mannitol, maltodextrin.
Directions
Adults:Take one tablet daily, preferably at mealtime, or as directed by a healthcare practitioner.
Precautions
Do not exceed directions for use.
Contains gluten.
Always read the label and use as directed. Vitamins are supplementary to a balanced diet. If symptoms persist consult your healthcare professional.
This product contains Chromium.  People with diagnosed diabetes should check with their doctor as blood sugar levels could be altered when using this product.
This product contains selenium which is toxic in high doses. A daily dose of 150 micrograms for adults of selenium from dietary supplements should not be exceeded.