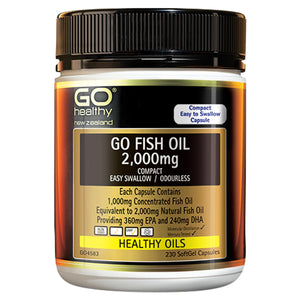 Go Healthy Go Fish Oil 2,000mg Compactprovides a concentrated source of EPA and DHA Omega 3 Fatty Acids equivalent to 2,000mg natural Fish Oil. Some high strength Fish Oil capsules can be difficult to swallow as they are often large in size. GO Fish Oil 2,000mg has been supplied in a compact capsule, which is half the size of some other 2,000mg Fish Oil products.
This compact size makes it easy to swallow, convenient and consumer friendly. Sourced from deep sea wild fish, GO Fish Oil 2,000mg Compact is odourless, molecularly distilled and mercury tested to ensure purity and quality. Contains natural orange to minimise odour and reflux. Fish Oil is an excellent source of Omega 3 Essential Fatty Acids which provide many well known health benefits.
This product is Certified Sustainable by Friends of the Sea (FOS).
Ingredients per SoftGel Cap:
Fish Oil concentrated 1,000mg
    Equiv. to Natural Fish Oil 2,000mg
    Equiv. Omega 3 Marine Triglycerides 620mg
    Equiv. Eicosapentaenoic Acid (EPA) 360mg
    Equiv. Docosahexaenoic Acid (DHA) 240mg
d-alpha-tocopherol (Vitamin E present as natural antioxidant)
Contains Orange Oil
May contain encapsulating aids.
Contains no added: Wheat, gluten, corn, yeast, dairy products, artificial preservatives or sweeteners. 
Directions
Adults: Take 1-3 SoftGel capsules daily.
Best taken with food, or as directed by your healthcare professional.
Precautions
Always read the label.
Take only as directed.
If taking prescription medication or if in doubt, consult your Healthcare Professional.