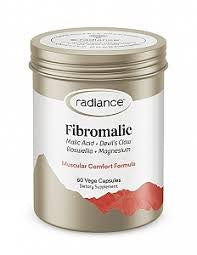 Inflammation is a way of signalling the immune system to heal and repair. However when it's prolonged it can lead to chronic conditions that result in severe or almost constant joint and muscular discomfort.
Radiance Fibromalic is a synergistic blend of soothing, relaxing herbs and nutrients that support the body's natural ability to manage healthy inflammatory processes, muscular and joint comfort and provides support when fatigue and discomfort have become an everyday challenge.

SIZE: 60 Vege Capsules.
DIRECTIONS
Take 2 capsules daily with food, or as directed by your healthcare practitioner.
INGREDIENTS
Each Capsule Contains:
Malic acid
Devil's Claw ext. equiv. to dry herb (standardised to 2mg harpagosides) 400mg
Boswellia serrata ext. equiv. to dry herb (standardised to 35mg boswellic acids) 500mg
Magnesium (as magnesium citrate) 50mg
Vitamin C (as calcium ascorbate) 5mg
Vitamin B6 (pyridoxine HCl) 2.5mg
Chromium (as chromium picolinate) 25µg
EXCIPIENTS
100% vegetarian. Cellulose capsule, magnesium stearate, silica.
PRECAUTIONS
Not recommended during pregnancy or lactation. Dietary Supplements can be toxic in high doses. Keep out of reach of children. Close lid tightly. Store in a cool dry place.