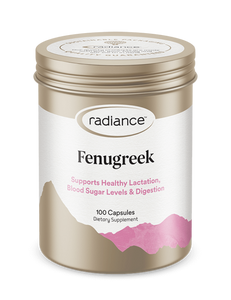 FENUGREEK 100'S
Radiance Fenugreek supports healthy breast function and breast milk production quickly and effectively. It is one of the oldest documented herbs and has a long history of traditional use by nursing mums across many cultures.
Fenugreek is also used to support normal appetite and digestive upset and can be used to maintain healthy blood sugar levels.

SIZE: 100 Capsules.
DIRECTIONS
Take 2 capsules two to three times daily.
INGREDIENTS
Each Capsule Contains:
Fenugreek Seed 600mg
EXCIPIENTS
Calcium phosphate, magnesium stearate. No gluten, dairy, artificial preservatives, flavouring or colours.
PRECAUTIONS
Not recommended for use during pregnancy. Use caution if diabetic or using hypoglycaemic or anticoagulant medications. Dietary Supplements can be toxic in high doses. Keep out of reach of children. Close lid tightly. Store in a cool dry place.