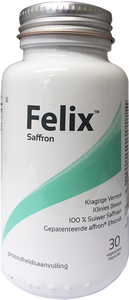 What is Felix – Pure Saffron Extract?
FELIX® is a feel-good supplement with a highly specialised saffron extract made from the saffron crocus.
Saffron is well known for its culinary gift as a potent and highly prized spice imparting a rich flavor to many dishes. This potent flavour comes from the stamins of the saffron flower, a type of crocus that grows in the middle-East.
Modern science through clinical studies has now confirmed saffron's ability to enhance mood, alleviate appetite and boost libido in both men and women.
Benefits:
• Clinically proven efficacy
• Utilising superior saffron extract – Affron®
• May help maintain a positive and healthy mood
• Works quickly and effectively
• May help to assist in the management of mood swings
• May help to relieve stress
• Can be used alone or as an adjunct to other forms of treatment
• Vegan/Vegetarian friendly. Eco-friendly packaging