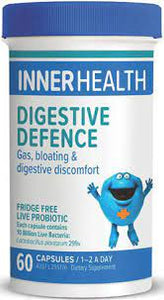 Ethical Nutrients Inner Health Digestive Defence
Fridge Free Live Probiotic for Gas, Bloating and Digestive Discomfort.
Inner Health Digestive Defence remains full strength out of the fridge so you can keep it in the cupboard or take it with you wherever you go.
PROTECTAIR is a triple-action moisture defence system exclusive to INNER HEALTH. It protects the live probiotic bacteria so they remain alive and at full strength for maximum effectiveness.
Features:
Support healthy digestion.
Maintain normal bowel function.
Relieve bloating and wind.
Support a healthy balance of good gut bacteria.
Relieve digestive discomfort or symptoms of medically diagnosed IBS.
DIRECTIONS
Adults and children over 12 years:
Take 1 capsule daily for digestive health.
Take 1 capsule twice daily to relieve digestive discomfort associated with medically diagnosed Irritable Bowel Syndrome (IBS) or as directed by a healthcare professional.
Storage:Â Store below 30°C.