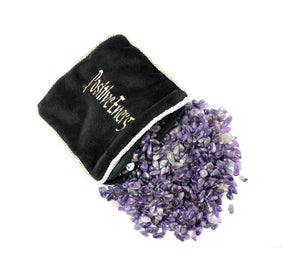 Rock Quartz: Unblocks negative thoughts and takes your worries away.
Amethyst: Allows deep sleep and provides spiritual insight.
Mixed Stones- Amthyst, Rock Quartz, Garnet, Rose Quartz and Moon Stones
Garnet inspires love and devotion, balances the sex drive and alleviates emotional disharmony. It activates and strengthens the survival instinct, bringing courage and hope. ... Garnet regenerates the body and stimulates the metabolism.
Rose Quartz is the stone of universal love. It restores trust and harmony in relationships, encouraging unconditional love. Rose Quartz purifies and opens the heart at all levels to promote love, self-love, friendship, deep inner healing and feelings of peace.
A stone for "new beginnings", Moonstone is a stone of inner growth and strength. It soothes emotional instability and stress, and stabilises the emotions, providing calmness. Moonstone enhances intuition, promotes inspiration, success and good fortune in love and business matters.