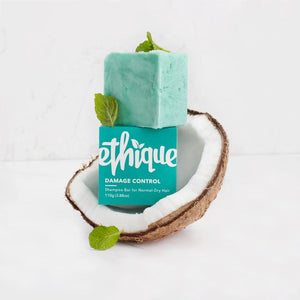 It all started with Mintasy - our iconic teal bar was the very first Ethique shampoo bar and it remains a crowd favourite to this day!
Mintasy (previously Damage Control) is the perfect bar for normal-to-dry hair that could do with a little TLC; maybe you heat-style a couple of times a week, or maybe you enjoy an occasional swim and your tresses are a little tired from the chlorine. Regardless, this uplifting bar with cocoa butter, peppermint oil and a generous dose of fair trade Samoan coconut oil will cleanse and smooth your hair shaft without weighing strands down.
Please note: Damage control is currently going through a name change and will now be known as Mintasy. The product you receive may differ to the product pictured - there are no other changes to the product besides the name.