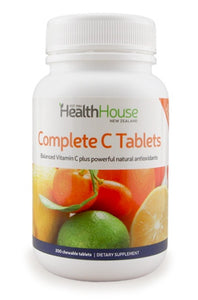 Complete C Tablets - Just like our Complete C Powder, these tangy orange flavoured tablets contain three different forms of 100% absorbable vitamin C, each designed to complement the others and avoid stomach irritation.
Vitamin C helps keep your skin collagen youthful. It supports mental alertness, makes bones stronger and is necessary to expel harmful toxins from your body.
Complete C Tablets also contain six powerful antioxidants and bioflavonoids, all proven excellent for maintaining health and alkalising your body.
These are
Pine bark extract (Pycnogenol)
Grape seed extract
Bioflavonoids
Rosehips
Rutin
Hesperidin
Quercetin
Grape seed and Pine bark extracts assist by strengthening and protecting the collagen in the skin, slowing the rate of collagen breakdown and keeping the skin firm, supple and vibrant by maintaining its integrity and elasticity.
Rutin and Hesperidin are two flavonoids found in plentiful supply in grapefruit, mandarins, lemons, oranges and other citrus fruits. They are the most active of the citrus flavonoids also contributing to the integrity of blood vessels, capillaries, and collagen and to help protect from bruising.
Each chewable Complete C tablet gives you 220mg of blended vitamin C including pycnogenol and grape seed.
Complete C is also available as a dissolvable powder that makes a tasty, tangy drink.