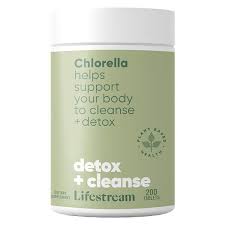 Lifestream Chlorella and Organic Chlorella provides detox support from the super green algae. Lifestream Chlorella and Organic Chlorella contain high levels of chlorophyll for internal body cleansing with plant-based vitamins, minerals, and antioxidants to nourish health and vitality. The "cracked cells" and chlorophyll content support detoxification and enable optimal nutrient absorption, which also supports skin health.
Each Tablet Contains:

Chlorella Powder "cracked cells" (Chlorella vulgaris) 98.5% 
Tricalcium phosphate
Nutritional Information Per 2g (4 tabs) Serve:
Energy 34.0kJ
Protein 1.3g
   -gluten NIL
Fat, total 0.3g
   -saturated 0.03g
Carbohydrate 0.3g
   -sugars 0.1g
Dietary Fibre 0.2g
Sodium 2.7mg
Vitamin B1 39.2mcg
Vitamin B2 100mcg
Vitamin B3 914mcg
Vitamin B6 47.6mcg
Folate 40mcg
Vitamin C 1mg 
All values specified above are averages.
Free from:
 Dairy, soy, wheat, and gluten. 
Suitable for vegans.
Directions
Adults: Take 4 tabs (2g) daily.
First Time Users: Start with 2 tablets daily and build up the dose over a week. 
Precautions
First time users should slowly build up the dose over a week as per individual pack recommendations.
Headaches, blemishes, tiredness or changes in bowel motions may occur when first taking chlorella.
Drink plenty of water (6-8 glasses a day). 
Not recommended during pregnancy or breastfeeding due to the detox action.
If you are taking any prescribed medications we recommend you check with your healthcare professional before taking supplements.