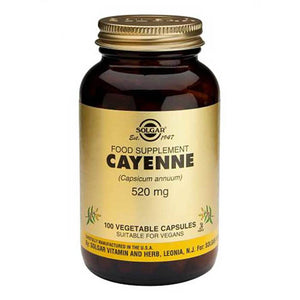 Highlights
Cayenne has anti-fungal, immune boosting, and detoxifying properties
 Vegan friendly
Solgar Cayenne 520mg vegetable capsule.  Cayenne (capsicum annuum) is a blood warming, invigorating spicy pepper containing 40,000 heat units/g.   Used by many civilizations and cultures throughout history both in cooking and as a medicinal herb.  It is rich in compounds that support the circulatory, cardiovascular systems and may help with cholesterol management. 
When taken internally, cayenne soothes the digestive tract and stimulates the flow of stomach secretions and saliva which help digest food. Capsaicin, a phytonutrient in Cayenne can also diminish the chemical responsible for sending distress signals to your brain, which may reduce joint and nerve discomfort.
Each Vegetable Capsule Provides:

Cayenne (fruit) (Capsicum annuum) 520 mg from Raw Cayenne Powder
Vegetable Capsule Shell: hydroxypropylmethyl cellulose

Free of: Sugar, Salt, Yeast, Wheat, Soy, Gluten and Dairy Products and are formulated without the use of Artificial Preservatives, Flavours or Colours 
Directions
Adults:  Take 1 capsule daily, preferably at mealtime, or as directed by a healthcare practitioner. Do not exceed directions for use.
Precautions
If you are pregnant, nursing, taking any medication or have a medical condition, please consult your healthcare practitioner before taking this product.