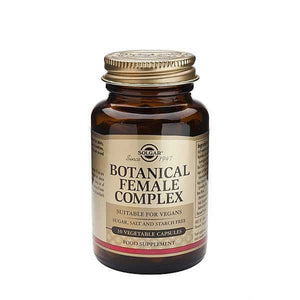 Highlights
Supports female menopausal health
Vegan friendly
Solgar Botanical Female Complex combines the synergy of traditional botanicals with plant extracts to aid and support women from the symptoms associated with menopause. 
Menopause can be an extremely debilitating part of a woman's life and can commonly cause irritability, mood swings, hot flashes, night sweats, loss of libido, aching muscles and joints and sleeplessness. 
Botanical Female Complex combines a synergistic blend of traditional botanicals and extracts including Red clover, Sage, Turmeric, Schisandra and Lifenol(R) Hops (a specific female hop cone extract), plus more,  to  help support overall wellbeing and balance for women to support during this time.
Each Vegecap Provides:

Red Clover (Trifolium pratense) (flower) 100mg
Sage Leaf Extract 4:1 (Salvia officinalis) 100 mg
(equivalent to 400mg of leaf)
Hops Extract (Lifenol) (Humulus lupulus) (flower) 85mg
(providing 100 ug 8-prenylnaringenin)
Base Blend 50mg      
(Montmorency Cherry Powder [Prunus cerasus] [fruit], Kelp [Ascophyllum nodosum] [whole plant],        Beetroot Red Powder)
Flaxseed Powder 50mg
Liquorice Root Extract 4:1 (Glycyrrhiza glabra) 50mg       
(equivalent to 200 mg of root)
Broccoli Powder (flower) 50mg
Turmeric Root Extract 4:1 (Curcuma longa) 50mg      
(equivalent to 200mg of root)
Dandelion Leaf Extract 4:1 (Taraxacum officinale) 50mg              
(equivalent to 200mg of leaf)
Grape Seed Powdered Extract 25mg       
(providing 22.5 mg [90%] polyphenols)
Schisandra Berry Extract 4:1 (Schisandra chinensis)  25mg       
(equivalent to 100mg of berry)

Also contains: Vegetable Capsule Shell (hydroxypropylmethyl cellulose), anti-caking agents (silicon dioxide, vegetable magnesium stearate).
Directions
As a food supplement for adults, take one (1) tablet daily, preferably at mealtime, or as directed by a healthcare practitioner.
Precautions
If you have a medical condition, or are taking medication, please consult your healthcare practitioner before taking this product.

Do not exceed recommended dose.

Not suitable for pregnancy or breastfeeding.

Glycyrrhiza Glabra (whole root liquorice) may increase blood pressure.  Care is required for people on blood pressure medicines – check with your doctor first.