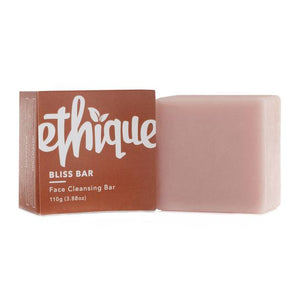 Highlights
Super creamy, gentle face cleanser & makeup remover
Normal-to-dry skin types
For lovers of coconut
100% soap free
Fragrance free
Ethique Bliss Bar - Face Cleansing Bar is a luxuriously creamy, gentle face cleanser created for normal to dry skin types. If you are a lover of coconut, this face cleanser is for you! Removes makeup like a dream. 
Made with creamed coconut, coconut milk powder and clay, it removes makeup and gently cleanses without stripping even the most sensitive skin.
Creamed coconut (
cocos nucifera)
Sodium cocoyl isethionate
Cocoyl methyl glucamide
Cetyl alcohol
Stearyl alcohol
Maltodextrin
Vegetable glycerine
Kaolin
Benzyl alcohol
Dehydroacetic acid
Guar hydroxypropyltrimonium chloride
100% palm free
All our ingredients are derived from non-palm sources such as rice bran or coconut oils.
Directions
Wet bar and your face. Lather bar between hands, then apply lather to face. Massage in then rinse with warm water. Follow with Saving Face or The Perfector for plump, hydrated skin.
Precautions
If irritation occurs, discontinue use.
Do not eat.