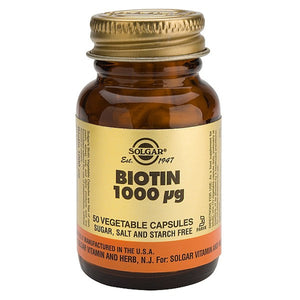 Highlights
May help to promote healthy skin, nails & hair
Supports energy metabolism in the body
Solgar Biotin

 1000 iu
 is water soluble B vitamin convenient one a day capsule.  Bioitn, considered the "Beauty vitamin" as it is known to help to promote healthy skin, nails and hair.  Biotin is involved in the cross linking of our structural proteins. Acne, brittle, peeling nails, dry, flaky skin and thinning hair may all respond well to Biotin. 
Biotin also supports energy metabolism in the body, and is required for protein, carbohydrate, and fat metabolism.  It is also important for normal mucous membranes, a healthy nervous system, blood sugar balance and  psychological well-being.
Each Vegetable Capsule Provides:

Biotin (as biotin prep.) 1000ug



Also contains

: Microcrystalline cellulose, stearic acid, magnesium stearate, hydroxypropylmethyl cellulose.
Directions
As a food supplement for adults, take one (1) capsule daily, preferably at mealtime, or as directed by a healthcare practitioner.
Precautions
Always read the label and use as directed. Vitamins are supplementary to a balanced diet. If symptoms persist consult your healthcare professional.