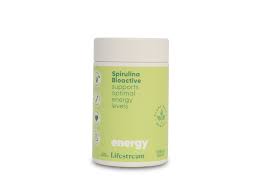 Lifestream Bioactive Spirulina Balance is a concentrated nutrient-rich ancient superfood. When taken as part of a healthy diet made up of a variety of foods, this complete plant protein provides a powerful combination of vitamins, minerals, amino acids and antioxidants that help maintain healthy energy levels throughout the day.
Provides iron which contributes to reducing tiredness and fatigue
Provides a natural source of iron
Is naturally bioavailable
The original superfood, Bioactive Spirulina Balance is grown away from pollution in pure mineral-rich water. It is non-GMO and sustainably sourced from the global leaders in microalgae research and cultivation.
Spirulina powder (
spirulina platensis
) 100% 
Nutritional Information Per 3g (1 teaspoon) Serve:
Energy 48.0kJ
Protein 2.0g
- gluten not detected
Fat, total 0.2g
- saturated 0.1g
Carbohydrate 0.4g
- sugars 0.1g
Dietary Fibre 0.2g
Sodium 22.9mg
Vitamin B1 3.0mcg
Vitamin B2 144mcg
Vitamin B3 480mcg
Vitamin B6 23.4mcg
Vitamin K 28.5mcg
Calcium 8.9mg
Chromium 21.6mcg
Copper 12.6mcg
Iodine 17.1mcg
Iron 1.8mg (15% RDI*)
Magnesium9.1 mg
Manganese93.0 mcg
Phosphorus28.4 mg
Potassium48.7 mg
Selenium0.6 mcg
Zinc 42.9mcg
Beta carotene 6.6mg
Total Carotenoids 15.0mg
Phycocyanin 561mg
Chlorophyll 36.0mg
Zeaxanthin 3.3mg
Gamma Linoleic Acid (GLA) 45.0mg
Linoleic Acid (LA) 38.4mg
All values specified above are averages 
*RDI = Recommended daily intake 
 The spirulina in this product has been tested for and shown to contain nil detectable amounts of BMAA.
Directions
Adults:
 Take 1 teaspoon (3g) daily.
Children 6-12 years:
 Take ½ teaspoon (1.5g) daily.
Precautions
If you have a very sensitive digestive system or may be one of the very few people who have an algae allergy, please check with your Healthcare Practitioner before using Lifestream Spirulina. 
If you are taking any prescribed medications we recommend you check with your healthcare professional before taking supplements.

This product contains Chromium. People with diagnosed diabetes should check with their doctor as blood sugar levels could be altered when using this product.

The spirulina in this product has been tested for and shown to contain nil detectable amounts of BMAA.