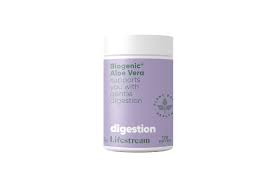 Lifestream Biogenic Aloe Vera from 100% inner leaf is a tonic that soothes your entire digestive tract. The pure inner leaf contains phytonutrients, polysaccharides and other active components that support natural growth and renewal. The aloe vera is gently processed using the patented NaturLOCK™ system to carefully lock in and protect the naturally soothing properties of the aloe vera plant.
This packaging is made of renewable sugarcane plastic which is kerbside recyclable in NZ as #2 plastic.
Product formerly known as Aloe Vera Capsules.
Aloe Vera dried inner leaf 100mg
equiv. to Aloe Vera fresh inner leaf juice 20ml
Also contains:
 Encapsulating aids.
Free from: 
Dairy, soy, gluten, and wheat.
Directions
Adults: 2 capsules daily.
Children 6-12 yrs: 1 capsule daily.
Best taken on an empty stomach.
Precautions
If symptoms persist, see your healthcare professional.
Always read the label and use only as directed.
If pregnant or breastfeeding, or for children under 2 years old seek professional medical advice before taking.
If you are taking any prescribed medications we recommend you check with your healthcare professional before taking supplements.