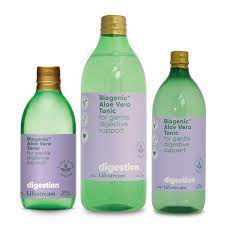 Lifestream Biogenic® Aloe Vera Juice is a digestive tonic that soothes the entire digestive system. The pure 'inner leaf' gel of the Aloe Vera plant contains plant phytonutrients and other active components such as polysaccharides, essential for cell growth and renewal. 
Supports gastrointestinal health for smooth and natural digestion 
Calms bloating and digestive discomfort 
A prebiotic that supports the growth of beneficial bacteria
Antioxidant action protects cells against oxidative damage
Immune system support
Biogenic Aloe Vera is sourced from 100% pure 'inner leaf' gel with no added flavours or sweeteners.  The Aloe Vera is organically grown in mineral rich volcanic soil, sustainably harvested by hand and then gently processed using the patented NaturLock system.
Each 1mL Contains:
Aloe Vera (Aloe barbadensis) pure inner leaf 997mg
Also contains:
 Citric acid, potassium sorbate, sodium benzoate.
Contains no:
 Added dairy, soy, gluten, wheat, flavours or sweeteners.
Independently Certified as 99.7% Pure Aloe Vera Juice by the International Aloe Science Council (IASC)
Made from Organically Grown Aloe Vera. 100% Herbicide and pesticide free.
Not reconstituted from powder concentrate
Guaranteed to be 100% GMO-free and 100% Vegetarian
Directions
Adults: Take 20ml (2 dessertspoons) 1-3 times daily
Children 6-12 years: 10ml (1 dessertspoon) 1-2 times daily.
Can be mixed with water or juice. Best taken on an empty stomach.
Precautions
If symptoms persist, see your healthcare professional.
Always read the label and use only as directed.
If pregnant or breastfeeding, or for children under 2 years old seek professional medical advice before taking.
If you are taking any prescribed medications we recommend you check with your healthcare professional before taking supplements