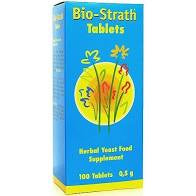 Bio-Strath Herbal Yeast Tablets

 is a useful food supplement for all ages which strengthens the body and can be used for a variety of complaints such as those as listed below.
The BioStrath herbal yeast (Saccharomyces cerevisiae) contains, in addition to protein, fat and carbohydrates, 20 amino acids as building blocks for proteins, the nucleic acids RNA and DNA, 11 vitamins, enzymes and 19 minerals and trace elements and 11 other various vital substances.


Bio-Strath is 100% natural and free from preservatives, colourings and any artificially produced substances.
For fatigue (school fatigue, spring fatigue).

For nervous tension, stress.

To strengthen immune defence.

To increase physical and mental efficiency.

To help during convalescence (recovery phase after illness).

During pregnancy and lactation period.

To help concentration, development and calmness in children

To help recovery in sports
Individuals who are susceptible to candida infections can take Bio-Strath without worry. The very process of producing Bio-Strath renders the yeast biologically inactive and therefore the possibility of infection from this source is nil.
Secondly, the yeast used in Bio-Strath is unrelated to candida yeast. In fact the Bio-Strath form of yeast is an ideal nutrient medium for healthy intestinal flora, which is essential in aiding against candida infections.
Natural binding materials (corn starch, apple pectin, cellulose, silicic acid.)
Free from: 

Artificial colours and preservatives, lactose and gluten.
Directions
Children  6-9 years take 1 tablet twice daily.
Children  9-12 years take 1-2 tablets twice daily.
Over 12 years take 2 tablets twice daily.
Adults: More tablets may be taken as required.
2 tablets equal 1 teaspoon of Bio-Strath liquid.
Do not chew or crush tablets.