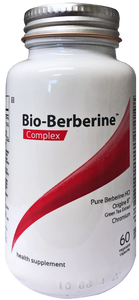 Coyne Healthcare Bio-Berberine Complex is an alkaloid and natural constituent of many herbs such as Golden Seal and Barberry. It's history of use dates as far back as 3000 years where it has been used in Chinese traditional and Ayurvedic practice. Berberine has fast become one of the most researched phytochemicals, evident from the increased research each year and the 4500 published studies as of 2017.
Berberine has been successfully used by millions of people around the world to help restore and maintain health. Whilst Berberine has a many benefits the major interest lies in its ability to support metabolic health.  Studies have shown that Berberine may help support healthy blood sugar and cholesterol levels. 
Ingredients: (per 1 capsule)
Berberine HCI (from Berberis aristata extract, root) 500mg
Origine 8  25mg (15mg Phytophare green tea extract of which catechin EGCG 6mg, 10mg Phosphatidlycholine complex)
Chromium 25ug
Also contains:
Vegetable cellulose (capsule), Vegetable stearate, Silica.
Directions
Take:
1 capsule 2 to 3 times daily with meals or a recommended you your healthcare provider.
Precautions
Caution for those with existing medical conditions, it is suggested to consult with a medical professional before starting the use of Coyne Healthcare Berberine. 
If you are taking blood pressure medication or diabetes medication or antibiotics or have any other medical condition, consult your healthcare provider before taking Bio-Berberine.
Not recommended for use during pregnancy and breastfeeding. 
Do not exceed recommended dose.