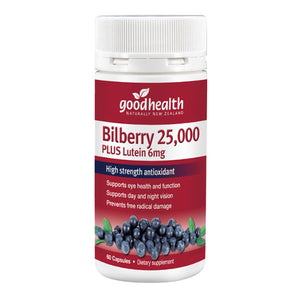 Highlights
High strength antioxidant
Supports eye health and function
Supports day and night vision
Prevents free radical damage
Good Health Bilberry 25,000 + Lutein 6mg is a high strength formula containing high doses of Bilberry and Lutein that are important for optimal eye health and function. Bilberry and Lutein are both potent sources of antioxidants that help to protect the body from free radical damage. 
Lutein supports healthy eye function, especially the macula, retina and eye lens. This powerful combination supports visual clarity, eye strength, focus and the ability to cope with eye strain and night vision.
Ingredients: (per capsule)
Herbal extract equivalent to fresh:
Bilberry (Vaccinium myrtillus) 25,000mg
(Providing Anthocyanosides 62.5mg)
Other Ingredient:
Lutein 6mg
No artificial flavours, sweeteners, preservatives or colours used in this product.
No added gluten, egg, dairy, wheat or soy.
Directions
Adults: 1-2 capsules per day with food or as professionally advised.
Children over 12 years: 1 capsule per day with food or as professionally advised.
Precautions
If symptoms persist consult your healthcare professional.
Keep out of reach of children.
Do not use if cap seal is broken.