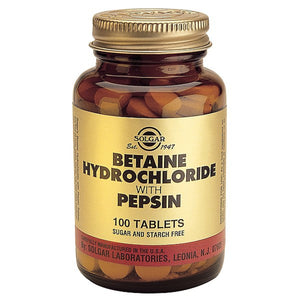 Highlights
Supports protein digestion

Use for bloating, belching & upper digestive discomfort
Solgar Betaine Hydrochloride
 provides a safe and effective dose of Hydrochloric acid (stomach acid) plus pepsin, an enzyme that breaks down proteins in food. Prolonged poor digestion can lead to digestive discomfort, belching and bloating and poor health, so supporting healthy digestion is important for long term health and wellbeing. 
The stomach naturally produces hydrochloric acid to keep its contents acidic. This is important for killing opportunistic pathogens, releasing other digestive enzymes and Vitamin B12 synthesis. However as we age, our product of acid decreases, so a supplement can be useful to help replace some of the lost acidity. 
Betaine Hydrochloride 325mg
(Equivalent to 11 drops of dilute Hydrochloric Acid USP)
Pepsin (1:10,000 units - contains milk) 59mg
Also contains
: 

Microcrystalline cellulose, vegetable stearic acid, silicon dioxide, cellulose gum, natural peppermint flavouring.
Directions
As a food supplement for adults, take one (1) tablet, preferably at mealtime, or as directed by a healthcare practitioner. Tablets should be swallowed with water.
Precautions
Do not take in case of stomach pain or a history of stomach or duodenal ulcers. Do not chew.
Always read the label and use as directed. Vitamins are supplementary to a balanced diet. If symptoms persist consult your healthcare professional.