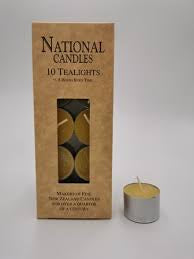 Beeswax candles are so good for you! They are all natural, organic, which means the air that you breathe is good and safe as it burns cleaner than other candles with no sticky, black petroleum based soot.
Beeswax candles also produce negative ions that are natural air cleaners. They have slower burning times. They are virtually dripless in a draft free environment. Beeswax candles also create ambiance with a warm amber glow.
Made by New Zealands oldest candle company, The National Candle Company. 
- Now avaliable in a handy tealight set, each pack contains 10 tealights.
- Each tealight is approximately 2.5 (deep) x 3.5 (diameter) cm.