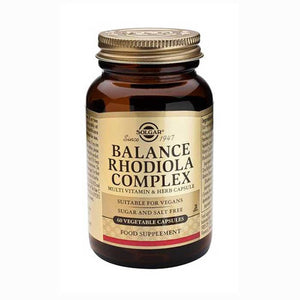 Highlights
May increase resistance to stress, enhance calmness and relaxation
Suitable for vegans
Solgars Balance Rhodiola Complex is in Vegetable capsule has a range of nutrients and botanicals may help us during times of stress.  
Stress is everywhere and for many people it is an unavoidable consequence of modern day life. Balance Rhodiola Complex is a comprehensive formula that combines vitamins, minerals, adaptogenic botanicals and nutrients to support stress resistance while enhancing calmness and relaxation for overall wellbeing and balance.  Including Vitamins B, C magnesium help support and contribute to normal emotional balance and functioning.    
Chamomile, tyrosine, kelp, liquorice, montmorency cherry and Siberian ginseng help support balanced adrenal and thyroid functioning.
Each Vegetable Capsule Provides:

Magnesium 50 mg (as bisglycinate) 
Pantothenic Acid 100 mg (as D-pantothenate, calcium)
Vitamin C 50 mg (as Ester-C® calcium ascorbate)
Rhodiola Root Extract 62.5 mg (Rhodiola rosea) (equivalent to 250 mg of root)
Citrus Bioflavonoids 25 mg
Siberian Ginseng Root Extract 50 mg (Eleutherococcus senticosus) (equivalent to 200 mg of root)
L-Tyrosine (free-form) 25 mg
Liquorice Root Extract 25 mg (Glycyrrhiza glabra) (equivalent to 100 mg of root)
Roman Chamomile Extract 25 mg (Chamaemelum nobile) (equivalent to 100 mg of aerial)
Spinach Powder (leaf ) 10 mg 
Niacin (as nicotinamide) 5 mg NE 
Kelp 4 mg
Vitamin B6 2.5 mg (as pyridoxine HCl)
Pumpkin Seed Powder 3 mg
Kale Powder (leaf ) 3 mg
Broccoli Powder (flower) 3 mg
Rosemary Leaf Extract 1 mg (Rosmarinus officinalis) (0.04 mg rosmarinic acid [4%])
Montmorency Cherry 1 mg Extract (Prunus cerasus) (fruit) (equivalent to 4 mg of fruit)
Vegetable Capsule shell: Hydroxypropylmethyl cellulose
Anti Caking Agent: Silicon dioxide, vegetable magnesium stearate 
Suitable for Vegans
Free of: Gluten, Wheat, Dairy, Soy, Yeast, Artificial Flavours, Sweeteners, Preservatives and Colours.
Directions
Adults: 1 or 2 vegetable capsules daily, preferably at mealtime, or as directed by a healthcare practitioner.
Do not exceed directions for use.
Precautions
Food supplements should not be used instead of a varied balanced diet and a healthy lifestyle.


If you are pregnant, nursing or have a medical condition, please consult your healthcare practitioner before taking this product.

Glycyrrhiza Glabra (whole root liquorice) may increase blood pressure.  Care is required for people on blood pressure medicines – check with your doctor first.