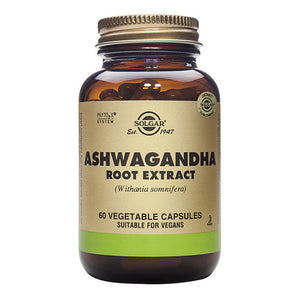 Highlights
Stress support
Calming & rejuvenating
High quality herbal extract
Vegan friendly.
Solgar Ashwagandha capsules contain high quality Ashwagandha (commonly known as Withania) combining raw and standardised herb to ensure an active level of Withanolides.  Ashwagandha has been used to help support the nervous system and to help stress.   
Ashwagandha is ideal for those who feel "tired but wired" or need adrenal support and one of the most popular herbal adaptogens helping in times of stress.   Solgar carefully selects only the best quality herbal ingredients from sustainable sources, and are non-irradiated for optimal purity and potency. Solgar includes PhytoO2X, a special blend of antioxidants help maintain the freshness of the ingredients.   
Each Vegetable Capsule Provides:

Standardised Ashwaganda Root Powdered Extract 300mg
(1.5% [4.5mg] withanolides) 
Raw Ashwaganda Root Powder 100mg 
PhytO2X (powdered blend beta carotene prep. and ascorbic acid)


Also contains: Hydroxypropylmethyl cellulose (vegetable capsule shell), microcrystalline cellulose, vegetable magnesium stearate.

PhytO2X is a special blend of natural antioxidants, the purpose of which is to maintain the freshness of the ingredients.
Directions
As a herbal food supplement for adults, take one (1) vegecap daily, preferably at mealtime, or as directed by a healthcare practitioner.
 
Precautions
Not suitable during pregnancy or breastfeeding unless under advice of a healthcare professional.