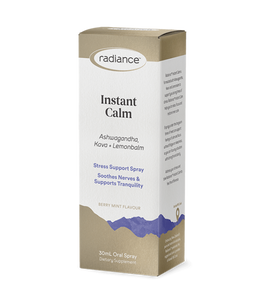 ASHWAGANDHA INSTANT CALM 30ML
Radiance Instant Calm is formulated with Ashwagandha, Kava and Lemonbalm to support you during times of stress. Radiance Instant Calm helps you to relax, focus and restore inner calm.
8 sprays under the tongue in times of need can support feelings of calm and focus without fatigue or sleepiness, so you can face any situation with strength and clarity.
Address your stress and take Radiance Instant Calm to feel the difference.
SIZE: 30mL Oral Spray.
DIRECTIONS
Shake well. Adults administer 1mL (8 sprays) under the tongue as required up to 3 times daily.
INGREDIENTS
Each 1mL dosage contains equivalent to dry:
Ashwagandha 266mg
equiv to withanolides 4mg
Kava kava 200mg
equiv kavalactones 10mg
Lemon Balm 83mg
EXCIPIENTS
Glycerine, natural wild berry & peppermint flavours.
PRECAUTIONS
Contains alcohol. Do not use in children or if breastfeeding or pregnant. Do not use in conjunction with alcohol, antidepressants or anxiety medication. Temporary numbing of the mouth may occur as a natural effect of Kava. If symptoms persist see your healthcare professional. Dietary Supplements can be toxic in high doses. Keep out of reach of children. Close lid tightly. Store in a cool dry place.