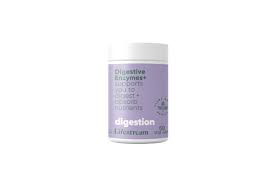 Lifestream Advanced Digestive Enzymes is a broad combination blend of vegetarian enzymes specifically designed to aid the digestion of fat, carbohydrate, protein and raw food.
Highlights
Assists healthy functioning of the digestive tract
Assists in the absorption of beneficial nutrients from food
Contains no animal derived enzymes or GE ingredients
Contains no artificial colouring or flavouring and is suitable for vegetarians
Reduces bloating and gas
Each Capsule Contains:
Amylase 12000 DU
Protease 35000 HUT
Bromelains 33mg
Lipase 600 LipU
Papain 20mg
Tilactase (lactase) 1000 ALU
Cellulase 250 CU

Also Contains: Rice bran and hypromellose capsule. 
This product is vegetarian.
Directions
Adults: Take 1-2 capsules with a meal or two capsules. 
If symptoms persist see your healthcare professional.
Precautions
It is best to separate the medications and the enzyme supplement by more than 2 hours.
All protein-digesting enzymes can irritate existing ulcers and should be avoided by those with stomach or intestinal ulcers.
As a general precaution, if you are pregnant or nursing, consult with a health professional before use.
Always read the label and use only as directed. If symptoms persist see your healthcare professional.
If you are taking any prescribed medications we recommend you check with your healthcare professional before taking supplements.