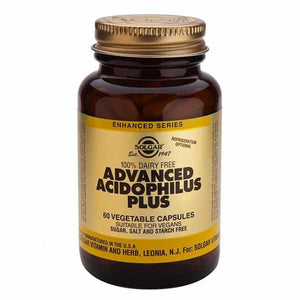 Highlights
Suitable for vegans
100% dairy free
Helps to maintain healthy intestinal flora
Vegan friendly
Solgar® Advanced Acidophilus Plus a number of beneficial probiotics in a vegetable capsule.  Each capsule provides 500 million microorganisms of L. acidophilus LA-5 and B. lactis. BB-12 which helps to maintain good intestinal flora. 
The health of our gut can easily be disturbed; from such things as antibiotics, stress, lack of sleep, poor diet, which can lead to harmful microorganisms overgrowing and impact our health. Lowered levels of good bacteria can result in a weakened immune response, poor bowel function and increased risk developing food intolerances.   Shelf stable, refrigerated optional.  
Each vegetable capsule provides:
 
 
Advanced Acidophilus Plus Complex
 
 

Bulking Agents: maltodextrin, microcrystalline cellulose;

 

sodium alginate; probiotic cultures;

 

Anti-caking Agents: silicon dioxide, vegetable

 

magnesium stearate

 
250 million microorganisms
250 million microorganisms
Vegetable Capsule Shell: hydroxypropylmethyl cellulose
 
Bulking agent: microcrystalline cellulose
 
Anti-caking Agent: vegetetable magnesium stearate
FREE OF: Yeast, Wheat, Soy, Gluten and Dairy Products and are formulated without the use of Artificial Flavours, Preservatives or Colours
Directions
As a food supplement for adults, one (1) to two (2) vegetable capsules daily, preferably at mealtime, or as directed by a healthcare practitioner. Do not exceed directions for use.
This product is shelf-stable