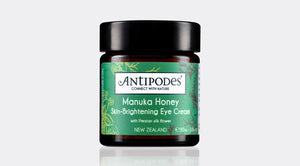 World-renowned manuka honey from New Zealand boasts potent moisturizing properties to hydrate and freshen the under-eye area in this vegetarian eye cream.
Skin Benefits
Persian silk flower blends with revolutionary antioxidant-rich Vinanza® grape seed and kiwifruit to help brighten delicate tissue. Suited to oily and blemish-prone skin types.
Scientific Validation
Antioxidant-rich Vinanza® Grape & Kiwi is clinically shown to help improve the appearance of skin by targeting redness and pigmentation.* (*Independent study by New Zealand Extracts (2012): The eight-week clinical study involving 10 women showed Vinanza® Grape & Kiwi helps improve skin appearance).
Credentials
This rich eye cream is certified vegetarian by the UK Vegetarian Society, the oldest and most respected vegetarian and vegan organization in the world.
Antipodes is committed to repurposing, reusing and recycling, including using recyclable boxes made from 100% biodegradable cardboard derived from sustainable forests as well as glass bottles, aluminum tubes and printing with 100% eco ink from vegetables.