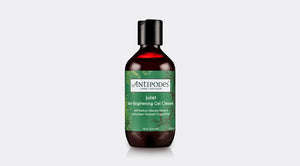 Achieve your brightest glowing complexion with this vegetarian low-lather gel cleanser that's true love for your skin. Antioxidant-rich Vinanza® Grape & Kiwi form the perfect union with New Zealand manuka honey to help reveal clean, clear and beautiful skin.
Skin Benefits
A gentle coconut oil-based formulation helps to reduce any excess oiliness on the skin's surface, while blackcurrant oil keeps skin soft and supple. This rich gel is lightly scented with a refreshing fragrance of green apple and cardamom. Suited to most skin types, especially oily.
Scientific Validation
Antioxidant-rich Vinanza Grape & Kiwi is clinically shown to help improve the appearance of skin by targeting redness and pigmentation.* (*Independent study by New Zealand Extracts (2012): The eight-week clinical study involving 10 women showed Vinanza® Grape & Kiwi helps improve skin appearance).