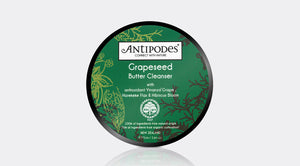 Leave your complexion divinely fresh and deeply cleansed with this luscious and effective butter cleanser.
Skin Benefits
This sleek, minimalist preparation is an enchanting blend of nourishing cacao butter with soothing olive and harakeke oils. Lavender and blue chamomile partner to help calm sensitive skin as well as refresh and cleanse, while hibiscus bloom has a gentle exfoliating action. This intensive cleanser is suited to most skin types, especially dry.
Scientific Validation
Vinanza grape seeds contain double the levels of polyphenolic antioxidants of grapes grown anywhere else in the world.* (*Certified by two independent organizations - New Zealand Extracts and the New Zealand Government's pastoral R&D company AgResearch).
Credentials
This daily cleanser is certified organic by BioGro New Zealand, an internationally- recognized and accredited organization that ensures formulations are free from toxic ingredients.
It is also certified vegan by the UK Vegetarian Society, the oldest and most respected vegetarian and vegan organization in the world.
Antipodes is committed to repurposing, reusing and recycling, including using recyclable boxes made from 100% biodegradable cardboard derived from sustainable forests as well as glass bottles, aluminum tubes and printing with 100% eco ink from vegetables.