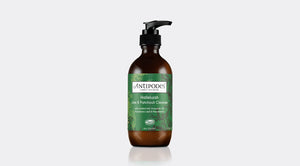 We've answered your prayers for truly clean, radiant skin with this fragrant and inviting vegan cleanser that clears residue impurities while revitalizing your skin's surface.
Skin Benefits
This creamy vegan botanical formulation features wild harvest kawakawa leaf extract from lush New Zealand nature. The refreshing fragrances of wild lime and patchouli are reminiscent of the 70s era – but in a good way! Suited to most skin types.
Credentials
This daily cleanser is certified vegan by the UK Vegetarian Society, the oldest and most respected vegetarian and vegan organization in the world.
Antipodes is committed to repurposing, reusing and recycling, including using recyclable boxes made from 100% biodegradable cardboard derived from sustainable forests as well as glass bottles, aluminum tubes and printing with 100% eco ink from vegetables.