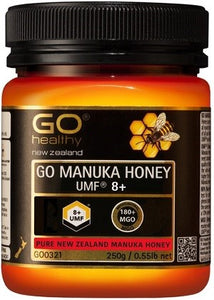 GO Healthy GO MANUKA HONEY UMF® 8+ contains Manuka Honey sourced from New Zealand. This honey is independently tested for UMF® and MGO levels by accredited laboratories in New Zealand.
Serving Size: 10g
Servings Per Container: 50
Energy 140kj
Protein less than 1g
Fat, Total less than 1g
 - Saturated less than 1g
Carbohydrate 8.0g
 - Sugars 6.5g
Sodium 0.8mg
Directions
Manuka Honey can be consumed by adults and children over the age of 1 year.
Precautions
Not suitable for infants under 12 months old.