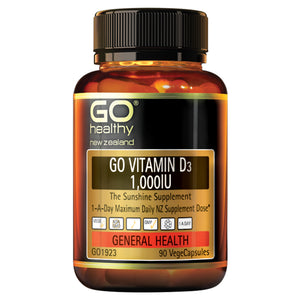 GO VITAMIN D3 1000IU is often referred to as the sunshine supplement as our body's naturally produces Vitamin D when exposed to sunshine. But due to the winter season, weather conditions, sunscreen and our indoor lifestyle, the body's ability to produce optimal Vitamin D levels may result in a deficiency in this important nutrient.
Vitamin D is essential for bone health, immune protection and positive mood. Each VegeCap of GO Vitamin D3 1,000IU provides a full maximum daily dose of Vitamin D available for supplements in New Zealand.
Each VegeCap provides a full maximum daily dose of Vitamin D*
Essential for bone health and immunity
Supports positive mood
VegeCap Advantage
*Maximum NZ dose for supplements
Ingredients per VegeCap:
Vitamin D3 1,000IU (as cholecalciferol) 1,000IU
May contain encapsulating aids.
Directions
Adults: 1 VegeCap daily.
Best taken with food. Or as directed by your Healthcare Professional.
Precautions
Not to be taken during pregnancy or lactation unless under medical supervision.
Those with hyperparathyroidism or sarcoidosis should not take Vitamin D without consulting a physician
Always read the label.
Take only as directed.
Caution is required with certain drugs including digoxin, blood pressure medications and thiazide diuretics.
If taking prescription medication or if in doubt, please consult your Healthcare Professional.