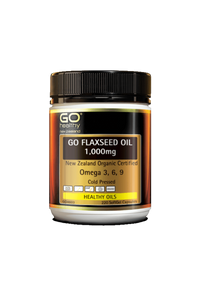 Go Healthy GO Flaxseed Oil 1,000mg is the purest quality, using only organic certified, cold pressed flaxseed grown. Flaxseed oil is high in omega 3, 6 and 9 essential fatty acids. These fatty acids support healthy skin, hair and nails as well as promote joint health.
Ingredients per SoftGel Cap:
Flaxseed Oil 1,000mg 1,000mg
    Providing:
    Alpha-linolenic Acid (Omega 3) 520mg
    Linoleic Acid (Omega 6) 180mg
    Oleic Acid (Omega 9) 210mg
May contain encapsulating aids.
Directions
Adults: Take 1-3 SoftGel Caps daily.
Can be taken anytime, with food or on an empty stomach. Or as directed by your Healthcare Professional.
Precautions
Always read the label.
Take only as directed.
If taking prescription medication or if in doubt, consult your Healthcare Professional.