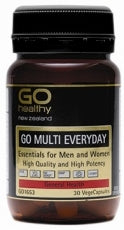 Essentials for men and women. 
GO MULTI EVERYDAY is a high potency all in one multi vitamin and mineral supplement designed for both men and women. GO Multi Everyday works to support energy levels and maintain general health and well-being. Taking a high quality multi vitamin and mineral supplement is recommended by Healthcare Professionals worldwide. You should consider taking GO Multi Everyday if you suffer from any of the following:
Have a poor diet, high caffeine, sugar and alcohol intake, feeling stressed, busy and demanding lifestyle, low energy, feeling run down, frequent infections, smoker.
What else should I know?
Classification
General Sale
Active Ingredients
Ingredients per VegeCap
Vitamin B1 77mg, Vitamin B2 77mg, Vitamin B3 77mg, Vitamin B5 112mg, Vitamin B6 77mg, Biotin 50mcg, Folic Acid 300mcg, Vitamin B12 50mcg, Choline bitartrate 25mcg, Inositol 25mg, Vitamin E 50IU, Vitamin C (Ascorbic acid) 150mg, Vitamin D3 2.5IU, Beta-carotene 5mg, Iron (as Ferrous fumarate equiv. to Iron 3.1mg) 10mg, Calcium citrate (equiv. to 25mg Calcium) 119mg, Zinc amino acid chelate (equiv. to 5mg Zinc) 25mg, Magnesium amino acid chelate (equiv. to 1mg Magnesium) 5mg, Manganese amino acid chelate (equiv. to 2mg Manganese) 10mg, Chromium picolinate (equiv. to Chromium 50mcg) 400mcg, Selenium 50mcg, Iodine 150mcg, Citrus Bioflavanoids 25mg, Co-Enzyme Q10 5mg, Ginseng (Panax ginseng) equiv. to dry root 150mg, Kelp equiv. to dry 6mg.
Adults: Take 1 VegeCap daily. Can be taken anytime, with food or on an empty stomach. Or as directed by your Healthcare Professional.
Warnings
Not to be taken during pregnancy or lactation. Always read the label. Take only as directed. If taking prescription medication or if in doubt, please consult your Healthcare Professional.