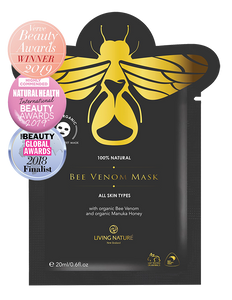 Bee Venom Mask Sachet
Living Nature's Bee Venom Mask combines organic Bee Venom with the natural botanicals of organic Manuka Honey and certified organic Coconut Oil to create a mask that plumps, tightens, and reduces the appearance of fine lines and wrinkles, giving skin a healthy and youthful glow. It uses a certified organic cotton fibre mask to deliver nourishment and active bee venom, providing a pleasant warming sensation upon application.

Formulated for all skin types, this mask has been made from the highest quality ingredients and is the perfect anti-ageing treatment, made in New Zealand from natural and organic ingredients.
1 x 20ml sheet mask

Warning: Not suitable for anyone with bee-related allergies.