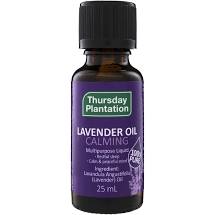 Lavender oil is a versatile aromatherapy grade oil, which can help calm, soothe and relax the body and mind.
Promotes restful sleep and improved sleep quality
Supports a calm & peaceful mind
Traditionally used to relieve skin itching and redness of tick, wasp and insect bites
100% pure. Free from SLS, synthetic parabens, synthetics and fillers; guaranteeing an unaltered, pure oil
Can be applied directly to the body or used in a vaporiser
Distilled from the flowering tops of Lavandula angustifolia
To help with relaxation prior to sleep and assist with a good night's sleep. Massage:  Add 5 drops (1/4mL) to 10mL carrier oil. Apply to temples, forehead, back of neck, shoulders or full body. Vaporisation: Add 5 drops (1/4mL) to water in an oil burner. Bath: Add 5 drops (1/4mL) to bath water
For relief from tick, wasp and insect bites: Dab undiluted onto affected area.
Adults Only. It is recommended you skin patch test prior to use.  If irritation occurs discontinue use.
Do not use:
During pregnancy and while breast-feeding without medical supervision
Always read the label and use as directed. If symptoms persist see your healthcare professional.