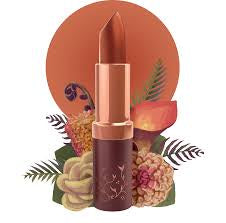 Karen Murrell Haute Bohème is a luxurious lipstick designed for the modern-day princess. A warm metallic bronze, it gives you a touch of glamour wherever you go.
BENEFITS
All natural ingredients, long-lasting, a creamy and smooth application. Nourishing for lips.
ACTIVE INGREDIENTS
Candelilla (Euphorbia cerifera)
The candelilla plant grows in the semi-arid environment of northern Mexico. Plants growing in the hottest and driest areas produce a protective covering, which yields a hard vegetable wax of superior quality after processing. Candelilla wax is yellow, and is celebrated in lipstick production for its hard, brittle, glossy and slightly tacky properties.
Evening primrose oil (Oenothera biennis)
Rich in omega-6, soothing and very moisturising.
Castor oil (Ricinus communis)
Excellent emollient properties and a high-acting pigment dispersant. Due to its high viscosity, castor oil also helps to suspend pigment in the manufacturing process to avoid settling when hot. KM Lipstick pigments are milled into castor oil in a ball mill. The milling process reduces particle size and ensures even suspension and distribution.