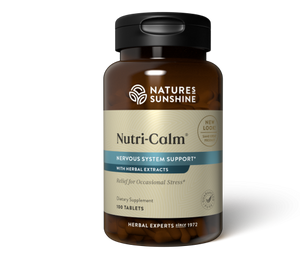 Nature's Sunshine Nutri-Calm
Nutri-Calm is designed to support the nervous system, especially when under stress. During times of stress, the body rapidly loses B vitamins. Nutri-Calm provides generous amounts of these nutrients in a base of herbs known to support optimal nervous system health.
Nutri-Calm contains B Complex and C vitamins, and calcium in a nutritional blend of schizandra fruit, valerian root, choline bitartrate, Para Aminobenzoic Acid, bee pollen, inositol, hops flower and citrus bioflavonoids.
Indications for Use
Soothes frayed nerves by providing healthy doses of the B-Complex vitamins
Aids in relaxation and encourages restful sleep
Boosts the immune system
Supports healthy energy levels
Is a source of antioxidants (Vitamin C & Lemon Bioflavonoids)
Ingredients
Per tablet
Vitamin C (ascorbic acid) 400 mg
Thiamin (B1, thiamine mononitrate) 20 mg
Riboflavin (B2) 20 mg
Niacin (niacinamide) 40 mg
Vitamin B6 (pyridoxine) 20 mg
Folic Acid 125 mcg
Vitamin B12 (cyanocobalamin) 34 mg
Biotin 100 mcg
Pantothenic Acid (d-calcium pantothenate) 80 mg
Choline (bitartrate) 13mg
Proprietary blend 141mg
Schizandra fruit (Schisandra chinensis), inositol, Para Aminobenzoic Acid (PABA), Bee Pollen,  Lemon bioflavonoid, Hops flowers extraxt (Humulus lupulus), Passion Flower flowers extract (Passiflora incarnata) Valerian root extract (Valeriana officinalis).
Other Ingredients: Cellulose (plant fiber), di-calcium phosphate, stearic acid (vegetable), silicon dioxide (powdered silica), magnesium stearate (vegetable)
Recommended Dose
Take 1 tablet with a meal three times daily