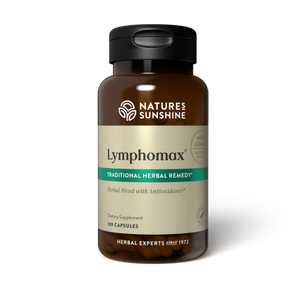 Nature's Sunshine Lymphomax
100 Capsules
Lymphomax is a blend of cleansing and supporting herbs for the respiratory and lymphatic systems. 
Mullein helps promote natural respiratory function.
Plantain supports the liver against cellular damage due to its antioxidant effects, and helps maintain the lymphatic system. Cleavers (also known as clivers) has reported diuretic, astringent and tonic effects. This herb is used historically to cleanse the lymphatic and other glandular systems.
Red root is traditionally used for supporting the lymph system. It contains components that help make the body environment more acceptable to microorganic balance.
Indications for Use
Helps support detoxification of the liver
Herbal blend to support the circulatory and lymphatic systems
Provides cleansing and supporting herbs for healthy functioning of the immune and respiratory systems
Ingredients
Per 2 capsules
Proprietary blend 770 mg
Mullein Leaves (Verbascum thapsus)
Bayberry Root Bark (Myrica cerifera)
Cliver's Aerial Parts (Galium aparine)
Plantain Leaf (Plantago major)
Alfalfa Aerial Parts (Medicago sativa)
Chamomile Flowers (Matricaria recutita)
Echinacea Root (Echinacea purpurea)
Yarrow Aerial Parts (Achillea millefolium)
Garlic Bulb (Allium sativum)
Red Root (Ceanothus americanus)
Chlorophyll (Sodium Copper Chlorophyllin)
Recommended Dose
Adults: Take 2 capsules with breakfast and lunch daily.