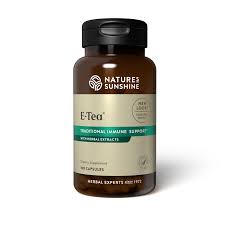 Nature's Sunshine E Tea
E-Tea ( Essiac tea) consists of concentrated extracts of four common herbs shown to support healthy immune function.
This formula also supports natural cleansing, healthy energy levels and digestion and may help to maintain cholesterol within normal range.
Sheep sorrel supports bowel regularity and benefits the gastrointestinal tract. Burdock is a cleansing and detoxifying herb. Turkey rhubarb studies suggest that it may help support the healthy integrity of cellular membranes. Slippery elm helps maintain healthy mucous surfaces while drawing toxins away.
Ingredients
Per 2 capsules
Proprietary blend 258 mg
Burdock Root (Arctium lappa)
Sheep Sorrel Herb (Rumex acetosella)
Slippery Elm Bark (Ulmus rubra)
Turkey Rhubarb Root (Rheum officinale)
Recommended Dose
Adults Take 2 capsules three times daily on an empty stomach. Two capsules equals 62.5ml of traditional tea.
Tea: Add the contents of 2 capsules to 125ml of hot water.
Cautions
This product contains Turkey rhubarb. See your health care provider prior to use if: Pregnant or nursing, any medical condition exists, or when taking any medication. Read and follow recommendation carefully. Do not use if diarrhoea, loose stools, or abdominal pain are present or develop. Use of this product may worsen these conditions and be harmful to your health. Chronic diarrhoea can result in serious illness.