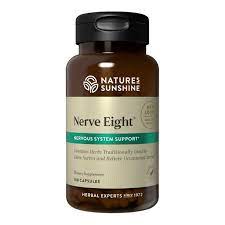 Nature's Sunshine Eight
Eight is an herbal formula designed to support  joints, muscles and nerves.
White willow and devil's claw may help support cellular stress. Capsicum and ginger soothe the digestive system. Hops, valerian and wood betony provide calming support to the nervous system.
Ingredients
Per 2 capsules
Proprietary blend 850 mg
White Willow Bark (Salix alba)
Black Cohosh Root (Cimicifuga racemosa)
Capsicum Fruit (Capsicum annuum)
Valerian Root (Valeriana officinalis)
Ginger Root (Zingiber officinale)
Hops Flowers (Humulus lupulus)
Wood Betony Herb (Betonica officinalis)
Devil's Claw Root (Harpagophytum procumbens)
Recommended Dose
Adults: Take 2 capsules with a meal three times daily.
Cautions
Do not take if pregnant. Use caution in cases of inflammatory conditions of the gastrointestinal tract, especially ulcers and gastritis.