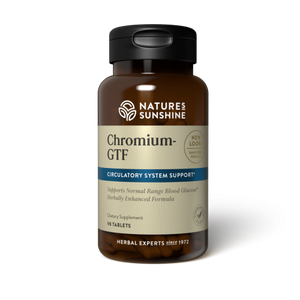 Nature's Sunshine Chromium GTF
Chromium is the central atom in the "glucose tolerance factor" (GTF), a hormone like compound that works with insulin to transport glucose, the body's quickest fuel out of the blood and into the cells. 
With chromium present in the diet, the intestines can produce GTF. When this function (GTF) is not working properly, the cells resist insulin and do not properly absorb the glucose needed for energy.
The liver also needs chromium to manufacture fatty acids, lecithin, cholesterol and lipoproteins. Without chromium, blood fats tend to rise because the liver cannot filter them out. 
Indications for use
Helps balance blood sugar levels already in the normal range
Supports healthy energy levels
Liver support
Support for sugar cravings
Ingredients
Per tablet
Chromium (chromium amino acid chelate) 300 mcg
Calcium (di-calcium phosphate) 80 mg
Phosphorus (di-calcium phosphate) 61 mg
Proprietary blend 60 mg
Horsetail Stem and Strobili (Equisetum arvense), Red Clover Flowers (Trifolium pratense), Yarrow Aerial Parts (Achillea millefolium)
Recommended Dose
Adults: Take 1 tablet daily with a meal.