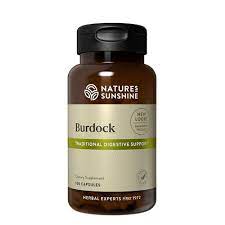 Nature's Sunshine Burdock
Burdock has been traditionally used as a blood purifier and its antioxidant activity may help protect the liver from toxicity. 
Burdock also supports the urinary system in a variety of ways, including helping to remove excess fluid from the body. It also soothes the digestive tract and promotes appetite.
Studies of burdock show that it is high in minerals, being a good source of iron. Data also indicates that the root is a good source of the carbohydrate inulin which can account for 45% of the plant mass. It also contains chromium, iron, magnesium, silicon and thiamine
Ingredients
Per 2 capsules
Burdock Root (Arctium lappa) 720 mg
Recommended Dose
Adults: Take 2 capsules with a meal twice daily.